Oshawa residential quality painting
The local professional painters you can trust painted this residential painting project in Oshawa, Ontario working with an interior design company to transform ordinary into extraordinary. Get a free quote for professional painting services in your Oshawa, Ontario house! Reviews on HomeStars, Houzz, Google, Facebook, Instagram and BBB.
Markham local professional painters
a Markham, Ontario two garage detached house painted from top to bottom in a colour scheme selected by renowned Markham, Ontario interior designers. We are a residential painting services contractor. Get a free quote for quality, green and fast painting services on your Markham home! Reviews on HomeStars, Houzz, Google, Facebook, Instagram and BBB.
Whitby residential painting company
An interior residential painting project for a two garage detached house located in Whitby, Ontario. Our team of professional painters used the highest quality environmentally friendly zero VOC paints supplied by our friends at Farrow & Ball. We are a painting contractor specializing in residential and commercial painting projects in Whitby. Give us a call for a free quote. Reviews on HomeStars, Houzz, Google, Facebook, Instagram and BBB.
custom quality home painter Uxbridge
Custom home painted in Uxbridge, Ontario includes painting walls, ceiling and trim in two living rooms, dining room, kitchen, all bathrooms, all bedrooms and all hallways. The trim is staind in lacquer white with a semi-gloss finish completed by the local professional painters you can trust at Emerald. We are fully licensed and insured with WSIB coverage for all employees. Give us a call for a free quote. Reviews on HomeStars, Houzz, Google, Facebook, Instagram and BBB.
Downtown Toronto green condo painter
The local professional painters you can trust contracted with a renowned Downtown Toronto interior design company to deliver the highest quality painting services to their client requiring painting of a custom 900 sq. ft. condo in Downtown Toronto. The condo unit was painted in its entirety, including all bathrooms, bedrooms, living areas, kitchen and dining room. Trims were painted with a semi gloss finish, walls with an egg shell finish and ceilings with a flat finish. Get a free quote for you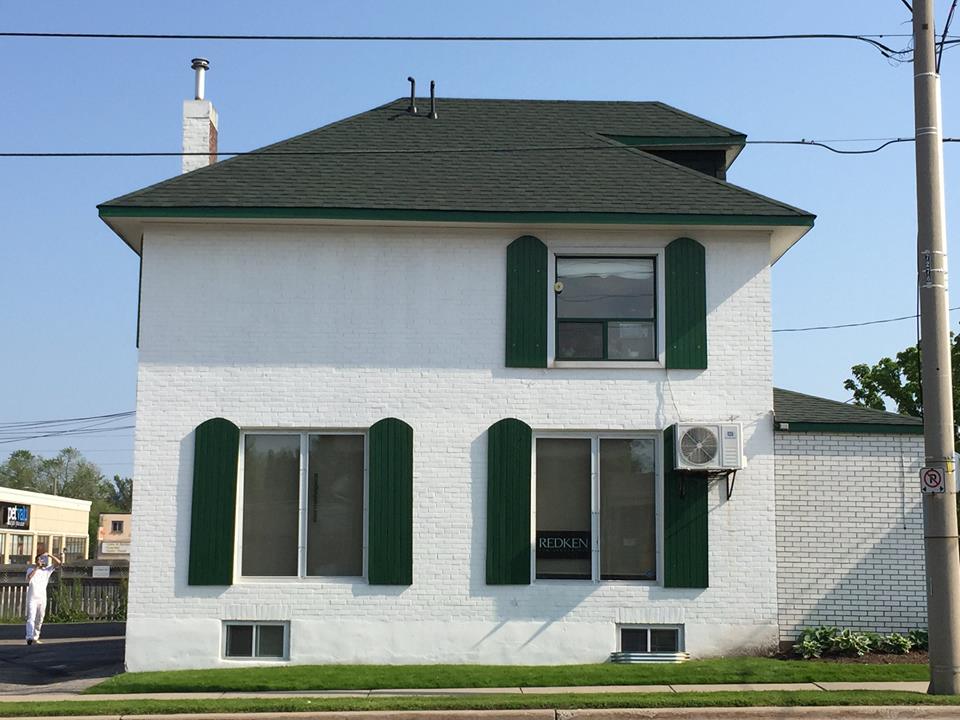 Courtice exterior house contractor
Helping the homeowner of this Courtice, Ontario house full of character protect it from Canadian winters. We brought back the green from our client's childhood memories so they continue to love their home just like they did in the past. Quality, fast, one day painting services to WOW you. Call for a free quote from your 1 day painters in Courtice and the Durham Region. Find reviews of our work on HomeStars, Houzz, Trusted Pros, Google, Facebook, Instagram and Twitter!
Local Pickering realtor paint house
The housing market in Toronto, York Region and the Durham Region is hot. A fast 1 day painting project can make all the difference for a multiple bid situation. Local professional realtors trust Emerald for quality and fast painting services contracted for their client's house sales. Get a free quote today from the local professional painters you can trust. Reviews on HomeStars, Houzz, Google, Facebook, Instagram and BBB.
1 Day Painting in Scarborough to WOW
A summer feel in this Scarborough house makes it stand out from the rest. The bright orange colour selected by our residential client makes this Scarborough house look refreshed just in time for a family wedding! We are a quality painting contractor specializing in 1 day painting projects. Fully licensed and insured with WSIB coverage and trained employees never subcontracted. Get a free quote for your Downtown Toronto condo unit! Reviews on HomeStars, Houzz, Google, Facebook, Instagram and BBB.
local Ajax quality painter realtor
This custom house was painted to perfection in bright shades and variations of white to add to the luxurious tone felt the moment you step foot inside. We are the local professional painters you can trust. Contact us for a free quote on professional painting services that WOW you. Find reviews of our work on HomeStars, Houzz, Trusted Pros, Google, Facebook, Instagram and Twitter!
Toronto interior commercial painting
An interior commercial painting project for an office in downtown Toronto by the local professional painters you can trust. Toronto painting contractor with liability insurance and WSIB, quality painting services, one day fast, green painting, fully licensed and insured. Reviews on HomeStars, Houzz, Google, Facebook, Instagram and BBB.
Toronto Professional Painting Services
Residential & Commercial Painters
Are you looking for professional painting services from local expert painters near you? We understand choosing the right painting company to paint your home, condo or business is important. We're here to make it an easy decision. From the most responsive and friendly service to taking care of your house, condo or business as if we was our own. Here's Our Commitment to you!
​
- simple, easy and hassle-free painting experience -
- quality painting services by expert painters -
- fair, reasonable and standard pricing -
​
How easy is it to begin and complete your painting project? 4 Steps Easy!
​
Step 1. Request Your Quick Quote - Submit the contact form or give us a call local at 647-909-3946 or toll-free at 1-866-909-3946
Step 2. Schedule a Visit or Virtual Quote - We'll meet with you or discuss your project and all the details by phone, at a time that works for you
Step 3. Review Your Written Estimate - Our estimates are detailed, outlining the scope of work, paint details, our process & price. Clear. Simple. Transparent.
Step 4. Schedule a Date to Complete Your Project - We communicate, confirm and check-in for a pleasant and hassle-free experience every time.
​
With Emerald Professional Painters, you are contracting much more than just painters. We are a local professional painting company providing home and business owners in Toronto & the Durham Region with expert interior, exterior, residential and commercial painting & contracting services. Here's why we are the right painters for you!
​​​
100's of Online Reviews for a brand built on delivering quality painting services and smiles on the faces of our happy customers

Transparent Estimates Our integrity and fairness begins with clear, detailed & transparent quotes. Everything is outlined. No surprises

High Quality Paints - Partnerships with Benjamin Moore, Sherwin-Williams & Dulux to provide high quality paints at a reasonable cost

Professional Painters - Trained, uniformed, friendly & respectful painters you can trust to deliver painting services with impeccable results.

No Subcontractors - We never subcontract our painting work. Period.

Licensed & Insured - Compliant with WSIB and all government regulations, plus 3rd Party Liability Insurance so you can hire painters worry-free.

Environmentally Friendly - From zero and low VOC paints to effective processes reducing waste, every painter tries their best to protect our planet.

Standardized Inspection process ensures we complete every painting project with quality

Respect and Integrity is a core pillar ingrained in everything we do
​
Interior, Exterior, House & Condo Painting Company in Toronto, Scarborough, Mississauga, Oshawa, Whitby, Pickering, Ajax, Bowmanville, Courtice & Uxbridge
The Emerald Professional Painters brand is built on high quality, fast, clean, friendly and exceptional service with a reasonable price. We are your local professional painters trusted with homes, offices, condos, businesses because we get the job done right, the first time! We provide professional painting services to clients in Toronto (GTA, Downtown, Midtown, North York, Scarborough & Mississauga), Durham Region (Whitby, Ajax, Pickering, Oshawa, Clarington, Courtice, Port Perry, Uxbridge, Port Hope, Brooklin & Bowmanville) and the York Region (Markham, Richmond Hill, Aurora, Whitchurch-Stouffville).
From the first call to the final result, we strive to exceed expectations. Our team of professional painters operate with quality, respect and integrity to ensure you spend less time worrying about your painting project and more time enjoying the whole process. Our friendly professional one day painters are here to help with your residential or commercial painting project. Using only high quality green environmentally friendly paints with low or no VOCs to protect your health, the environment, our painters and your family. Be a part of our brand servicing Toronto, Scarborough, North York, East York, Markham, Aurora, Whitchurh-Stouffville, Uxbridge, Pickering, Ajax, Whitby, Oshawa, Port Perry, Bowmanville and the GTA​
Our Residential & Commercial, Interior & Exterior, Professional & Fast Painting Services
Top Rated, Expert Quality, WOW One Day Fast, Get a Free Quote for Your Home Today!
Our quality painting services have assisted clients throughout Toronto, Durham and York Region. Let's have a discussion about your next painting project. We hold our work to the highest quality standards to deliver exceptional painting projects. We'll provide you with the information you need and get you started with a quote! When it comes to your home or business, don't risk going with any painting contractor. Contact the local professional painters you can trust for a free quote today!
​
Quality - Your residential or commercial painting project will be professionally painted using the highest quality paints and utilizing efficient & effective painting systems to deliver impeccable results. We are fast, green, clean, quality painters and we might just complete your professional painting project in one day. WOW! You can trust our uniformed, friendly, trained expert painters!

Experience - Our team of professional painters all have a minimum of five years of professional painting experience. The local quality painter painting your house is a master of their craft and can provide quality, fast, clean work for your house, condo or office!

Care - We complete each painting project as if the house, condo or office were our own. We care for your property like we would our own home. Anyone can learn to paint, but real professionals paint with care. Like possible completing your project in one day to make you say wow. High quality, clean, professional residential or commercial painting is our specialty. Call us to paint your house, condo, office or business.
​
Why Hire the Best Residential and Commercial Professional Painting Company? Paint Your House or Condo in Downtown Toronto, Scarborough, Pickering, Ajax, Whitby, Oshawa, Uxbridge One Day Fast with Quality!
We are the local professional painting contractors you can trust with your residential and commercial needs. Whether it is your house, condo, office, retail store or other interior, exterior, residential and commercial projects in Downtown Toronto, Scarborough, Whitby, Ajax, Oshawa, Mississauga, Markham, Pickering, Courtice, Uxbridge, Port Perry & GTA.
A Brand You Can Trust - Built on years of the highest quality work, customer focused service, applying the highest quality paints and doing it all with reasonable prices! We specialize in custom house painting, quality green painting, realtor trusted painters fast one day painters, Our online presence on Google, Facebook, Instagram, Houzz, HomeStars, Better Business Bureau, Three Best Rated, Yelp, Twitter and more!

Professional and High Quality Painting Services - Completing your local residential house or condo and commercial painting project with quality!

Respect and Integrity - Our painters are true professionals! You'll work with friendly, respectful and uniformed painters with completed background checks and commercial and residential painting experience so you can breathe easy.

Awards and Recognition - Hire Emerald Professional Painters for a local painting contractor Better Business Bureau (BBB) accredited business, HomeStars Best of Award for 2019 ,2020 and 2021, Three Best Rated Award and Houzz Contractor of the year!

Top Quality Paints - Using the highest quality paints and materials from Sherwin-Williams, Benjmain Moore, Pratt & Lambert, Farrow and Ball, Glidden, Valspar and Dulux. You'll receive full transparency on paint options. No gimmicks. No hidden fees!

On Time - Your time is important to us. We work hard to meet all time-specific promises and communicate our progress every step of the way.

On Budget - You'll receive fair and reasonable prices meeting your budget by keeping costs low via efficient and effective painting processes.

Workmanship Guarantee Option - Opt-in for a complete worry-free experience that gives you peace of mind. Get a free quote for more info!

Environmentally Friendly - We are proudly GREEN by using Low V.O.C or Zero V.O.C paints for all painting projects. Protecting the environment, your health, your family's health and the health of our painters!
​
GTA: Downtown Toronto, Scarborough, East York, North York, Etobicoke and Mississauga

Durham Region: Pickering, Ajax, Whitby, Oshawa, Clarington, Scugog, Port Perry, Uxbridge, Brooklin and Bowmanville

York Region: Markham, Richmond Hill, Aurora, Newmarket, Whitchurch-Stouffville and Vaughan

Peel and Halton Regions: Brampton, Mississauga, Caledon, Oakville, Milton, Burlington and Halton Hills

Toronto: Eringate, Centennial Park, Dixie, Highland Creek, West Hill, Morningside, Malvern, GUildwood, Cliffcrest, Eglinton East, Bendale, Dorset Park, Agincourt, Steeles, Milliken, Wexford, Golden Mile, Oakridge, Parkwoods, Don Valley, Bayview, Willowdale, York Mills, Don Mills, Victoria Village, Danforth, Leslieville, Upper Beaches, Forest Hill, Rosedale, Regent Park, St. James Town, Yonge and Dundas, Palmerston, Chinatown, Roncesvalles, Sunnyside, Leaside, Midtown, Summerhile, Runnymede, Yorkdale, Yonge and Lawrence, Eglinton, High Park, Bloor St, Meadowvale, Churchville, Malton and Thornhill.
​
quality, fast, best rated residential and commercial professional painting services company near you.
Every house painter that wears an Emerald Professional Painters uniform is experienced in the painting industry. This contributes to the pride we take in our quality and professionalism. Our number one professional painting services result in both homes and businesses looking better than ever before. You get what you pay for, and you're paying for a painting project that will be done right the first time!
environmentally friendly green quality home and office painting contractor
Our preference for low/zero VOC paints means that you won't have to worry about harmful chemicals being emitted into your airspace. However, a fresh paint job can do so much more than that! Renovating an older home allows you to remove dust and mold that has piled on your walls over the years. These harmful effects freely travel throughout your airspace on a daily basis, being breathed in and causing allergies to the people you love!
​
professional residential and commercial painting services
Nothing makes a buyer's eyes pop like a freshly painted home! The walls in your house cover the majority of the space that will catch the eyes of a potential buyer and realtor as they walk in. Make your house look like new, and real estate buyers will feel like they can move into a new house. It eases their vision of relocating themselves and their families to your house. A job done by one of our experienced house painters can have you selling for more than you asked for. Going the extra mile with Emerald Professional Painters will impress potential buyers and definitely make your property stand out in the market. We have worked with many real estate professionals in assisting their clients successfully sell. Let us help you next!
Preparation is key to quality professional painting
Covering the walls in your house with the colours of your choice is not our main goal. You see, what is the point of painting over a wall if you don't take care of the wall itself? This is where most Do It Yourself (DIY) painting projects go wrong. People and amateur painters are so eager to start painting, they neglect preparing the wall. Emerald Professional Painters pays close attention to the walls we will be painting. We remove and install wallpaper, repair and remove stucco, and even replace drywall. There's no point in painting over a damaged surface, that's why we ensure your home's beauty is not just skin deep.
​